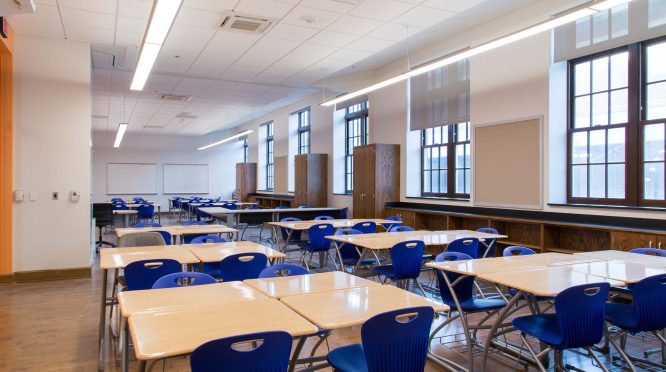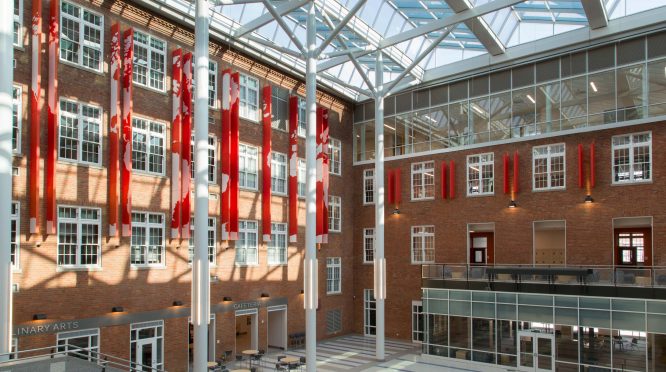 Project Info
Client

DC Public Schools/DC DGS

Location

Washington, DC

LEED Status

Gold

Cost

$128 M

Size

331,900 sf
Roosevelt High School Renovation
Global Engineering Solutions (GES) provided mechanical, electrical, plumbing, and fire protection engineering services for the complete renovation/modernization of an historic school. The school houses a traditional 9th-12th grade high school program as well as part-time evening students.  Beyond the typical high school academic and athletic requirements, the design also accommodates Roosevelt's specialized programs which address the needs of its diverse demographics including: Culinary Arts; Green Curriculum (greenhouse and gardens); Daycare Center; JROTC; behavioral, autistic and ESL Special Education; and Adult Education.
GES' engineers employed innovative design solutions to create a high-performing facility. Electro-chromic glass — a "smart" glass that automatically adjusts its shading based on the amount of day light present — was used on the roof of the atrium.  This reduced the amount of cooling required as well as the building's energy consumption and helped the building achieve LEED Gold.
The mechanical system utilizes a geothermal heat recovery variable refrigerant flow (VRF) water-source system, with over 250 wells. The facility was provided with the proper heating, cooling, ventilation, minimum required air exchanges, and automatic temperature control/energy management systems creating the appropriate thermal environment.
The project also included a new underground electrical service. Two 4000A services at 480Y/277 volts were required to service the needs of the upgraded school. Main switchboard, distribution switchboard, distribution panels, lighting and receptacle panel boards are circuit breaker type or main lugs type, with copper bussing. The piping mains were sized for the maximum calculated flow at the design stage plus 10% for future expansion. Separate pressure services with backflow prevention provide domestic, tempered, and mechanical make-up water to protect against cross contamination between the various program areas.
Awards:
DC Preservation League 45th Anniversary Award
2016 Craftsmanship Award- Structural Steel Framing, Washington Business Congress
2016 Craftsmanship Award- Concrete, Washington Business Congress
2016 Award of Merit: ENR Mid-Atlantic Region Renovation/Restoration
2016 Washington Contractor Award Renovation/Restoration over $100 Million, Associated General Contractors (AGC) of DC
2016 Sustainable Design, American Institute of Architects, DC Presidential Citation
2016 Vision Award, The Committee of 100 on the Federal City