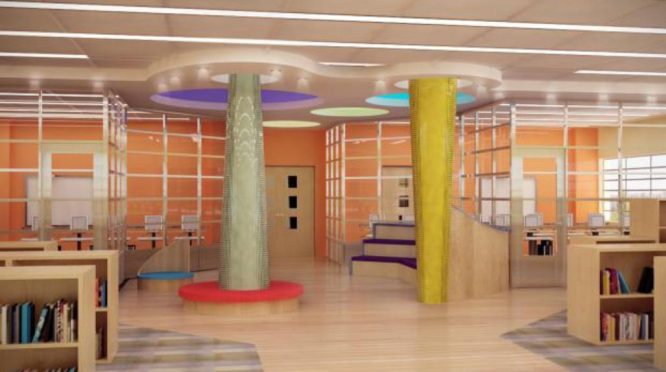 Project Info
Client

DC Public Schools/DC DGS

Location

Washington, DC

LEED Status

Silver

Cost

$ 22.6 M

Size

99,700 sf
Moten Elementary School Renovation
The Office of Public Education Facilities Modernization (OPEFM) engaged a comprehensive design team for the complete modernization of 100,000 sf school.  OPEFM expected the modernized facility to have operational and efficient building system, clean, and maintainable interior finishes, bright and "healthy" classrooms and public spaces, and be flexible, functional, and focused on both school and community needs.  Global Engineering Solutions (GES) provided mechanical, electrical, plumbing, and fire protection engineering services for the modernization of Moten Elementary School.  The facility was provided with proper HVAC, air exchanges, and automatic temperature control / energy management systems to create the appropriate thermal environmental.  The HVAC and related mechanical systems are functional and responsive to the needs of the school, as well as simple, durable, maintainable, and easily accessible.
The chilled water is provided by an air-cooled chiller and distributed to fan coil units placed throughout the building. Hot water is provided by natural gas fired boilers and distributed to fan coils units. Ventilation is provided by a 100% outdoor air rooftop unit equipped with an energy heat recovery system.  An automatic temperature control system was provided.  All actuators are Direct Digital Controls (DDC) activated for the central cooling and heating plant, as well as the air handling systems, individual, and terminal unit controls. Outdoor air monitoring is achieved by the mechanical systems carbon dioxide (CO2) sensors.  These sensors actively measure the CO2 particle concentration in the air and automatically adjust the outdoor air quantity required.  Piping mains were sized for the maximum calculated flow at the design stage, plus 10% for future expansion.
The existing electrical service and power distribution system were upgraded. A new 3000A electrical distribution board rated at 277/480V is provided. The new board delivers approximately 18 watts per square feet. The new distribution board serves the panels and transformers throughout the school. The school is provided with a 100kW to 150kW at 277/480V generator and emergency distribution system for life safety.  The light system design was based on the ASHRAE/IESNA Standard 90.1.  The interior lighting is energy efficient fluorescent lamps. Wall or ceiling mounted occupancy sensors with override switches are provided in restrooms, offices, workrooms, and classrooms. Egress and exit lighting, and exterior security lighting and parking lighting were also provided. A new addressable fire alarm system with emergency voice evacuation was provided to meet NFPA 101.