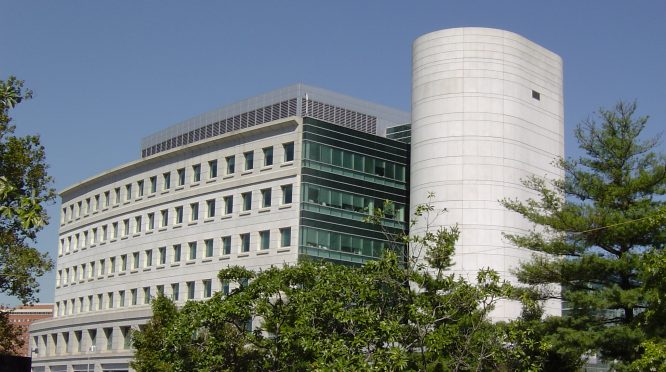 Project Info
Client

National Institutes of Health

Location

Bethesda, MD

Size

25,000 sf
Renovation of the National Center for Biotechnology Information Office
This project renovated 18,000 sf of space on the 4th floor and a portion of the 5th floor of the building for The National Center for Biotechnology Information (NCBI) for office and administrative support space. The office space consists of open (cubicle) offices, private office suites and a conference room in the fourth floor space.  The design team incorporated design flexibility and the provision of natural light into the enclosed and open offices.
Prior to starting work on the project, a kick-off meeting was held with the client and users to establish the project parameters and space utilization and layout goals.   LSY developed the programming and architectural design to establish layout and design intent. LSY coordinated with the systems furnishing vendor for the detailed layout and documentation of office partitions and workstations.   Global Engineering Solutions (GES) provided mechanical, electrical, plumbing and fire protection engineering services.  The mechanical design included modifying the HVAC system to maintain comfort levels for the occupants. The electrical design included lighting, IT and life safety
To meet the client's project goals, the team presented three design schemes to the client with a detailed list of pros and cons for each layout.   The discussion of the different schemes prompted client interaction with LSY to achieve the best possible layout and design for the client.  Upon approval of the final design, the GES/LSY team provided post design services to manage and oversee the renovation process to ensure adherence to the scope of work
To meet the challenge of relocating NCBI offices and minimizing disruption due to construction, the GES/LSY team developed and implemented a design plan and schedule that incorporated a two-phase construction strategy for the renovation of the 4th floor.