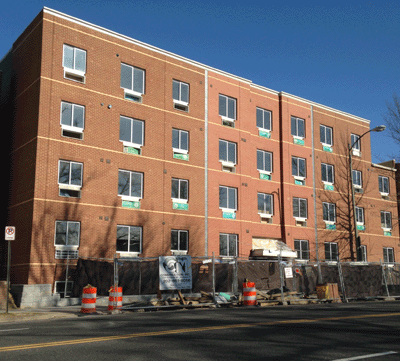 Project Info
Size

25,892 sf

Client

Mi Casa

Location

Washington, DC

Size

25,892

Cost

$5.3 M
Genesis Housing Complex
GES provided MEP & FP Engineering services for a new intergenerational community consisting of 27 affordable apartments for seniors, for young families transitioning out of foster care, and for other families. DC Child and Family Services Agency, DC Office on Aging and DC Department of Housing and Community Development were all partnered on the project to make Genesis the first community in DC based on the Generations of Hope Community model.
The project consisted of 25,892sf of new construction containing a mix of one, two and three bedroom configurations.  The five story building also includes community spaces designed with flexibility in mind to allow for large and small gatherings, and dedicated laundry rooms with commercial grade washers and dryers.  The project was developed with federal funding and in accordance with DCHD requirements including the Green Building Standards for site design, energy efficiency and accessibility.
Each apartment unit is designed utilizing packaged terminal heat pump units with direct connections to the outside to provide ventilation air, dedicated kitchens, bathrooms, dining and living rooms.