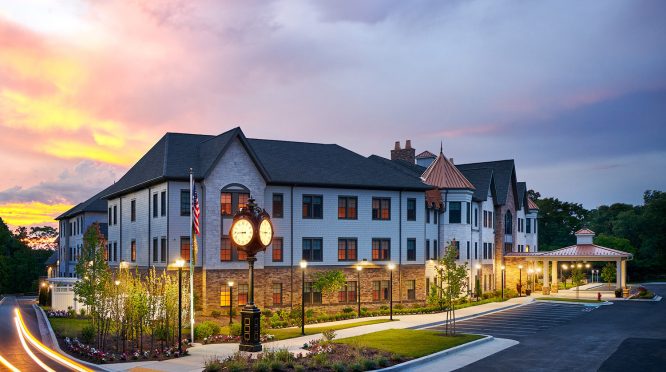 Project Info
Client

Brandywine

Location

Potomac, MD

Size

130,000 sf
Brandywine Senior Living at Potomac
GES provided MEP&FP engineering for the design of a new 130,000 sf, 120-unit senior living center consisting of three stories above grade and a below grade parking garage.  Amenities include a common full-service dining room, parlor, music room, bistro, pub, theater, lounges, multi-purpose space and a variety of unit types and sizes for specialized care and service options.
Core amenities areas, and the interior Terrace Level spaces will be served by a variable refrigerant volume (VRV) system with dedicated outdoor air supply (DOAS) unit.  VRV systems are comprised of multiple two-pipe fan coil units connected to a common air-cooled outdoor condensing unit.  Indoor fan coil units are a combination of fan and a single coil in a common enclosure, which is used for both heating and cooling.  Dwelling units will be served by a VRV system similar to that serving the amenities areas.
The VRV system with dedicated ventilation RTU provides premium system efficiency, tailored space comfort through extensive zoning, quiet operation, and flexible installation.
The HVAC systems will be equipped with a centrally controlled direct digital control (DDC) system.
Domestic use hot water will be generated at 160°F by three gas fired, high-efficiency condensing type water heaters.  Each heater in capable of producing 932 Gallons Per Hour with 130 gallons of storage. Input rating of 800,000 BTU/hr.
An automatic wet-pipe type sprinkler system will be provided throughout all areas of the building. A 500 GPM @ 170 Ft Hd, 40 Hp, 460V, 3 PH fire pump will be required for the Brandywine Senior Living Center based upon the current flow test.  The fire alarm system will be an addressable system. The main fire alarm control panel and the graphic annunciator panels will be located in the main building lobby and will include an emergency voice/alarm evacuation feature.
A new 3000A, 277/480V, 3-phase, 4-wire system electrical service is proposed for this project.  An emergency generator will be provide for the building to not only provide code required backup power for the life safety loads of the building but to also provide backup power for the spaces and services that are necessary to be operational as an area of refuge during an extended period of power outage.  The lighting control system will be a combination of local toggle switches, occupancy sensors, daylight sensors and automatic timer switches where needed to meet the requirements of the energy code.