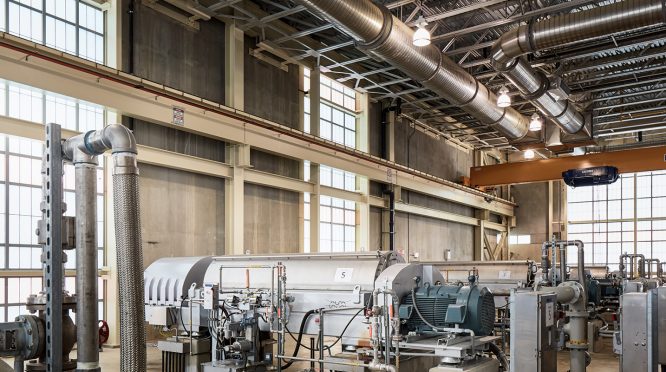 Project Info
Client

DC Water

Location

Washington, DC

Cost

$208 M

Size

78,500 sf
Biosolids Management Program, Main Process Train
DC Water is an independent authority of the District of Columbia that provides drinking water and wastewater treatment to more than 500,000 residential, commercial and government customers in the District, and also collects and treats wastewater for 1.6 million customers.   DC Water operates the Blue Plains Advanced Waste Water Treatment Plant, the largest advanced wastewater treatment plant in the world, with a peak capacity of 1.076 billion gallons per day.   Currently, lime stabilization is used to convert wastewater into Class B biosolids, a renewable resource used as a soil amendment on agricultural land in Maryland and Virginia.   By replacing the lime stabilization process with the proprietary Cambitm thermal hydrolysis and anaerobic digestion, DC Water hopes to reduce the quantity of biosolids produced by over 50%, and produce digester gas, a renewable energy resource containing methane gas that can be used to offset the purchase of natural gas and electricity at Blue Plains.  In addition, the remaining biosolids produced by the Cambitm process is a Class A product which has a wider market.
Under a design/build contract, Global Engineering Solutions (GES) provided a variety of mechanical, plumbing and fire protection services for the HVAC modifications to the Solids Blending Building, design of the new 13,000 sf Solids Screening Building, 50,000 sf Pre-dewatering Building, a bridge connecting the two buildings, and a 15,500 sf Digester Gas Building.   The plumbing design included the process plumbing for handling waste, solids and disposal to other facilities, and controls for all of the designed systems.
This project is the first of its kind in the United States, and the largest Cambi plant in the world. The $208 M project has helped DC Water become more energy efficient, reduce its carbon footprint and lowered operating costs. The system provides about 1/3 of DC water's plant saving about $10 M in electrical costs yearly. The plant use to create over 1,200 tons of "Class B" biosolids daily which was hauled about 75 miles by 60 truckloads daily. The new system creates half that amount and is a cleaner "Class A" biosolid, saving $ 2 M annually on treatment chemicals and $11 M annually in trucking expenses.
Awards:
2016 American Council of Engineering/Engineer Excellence Honor Award