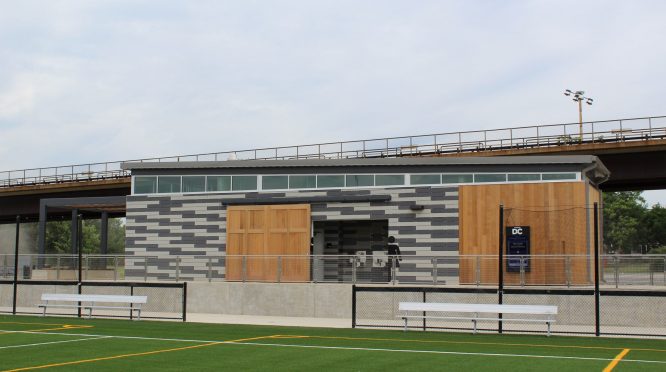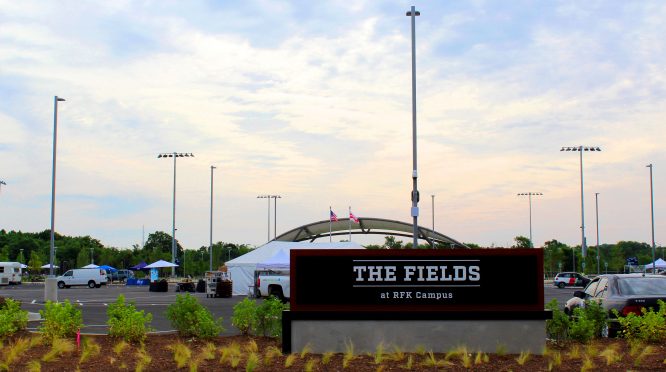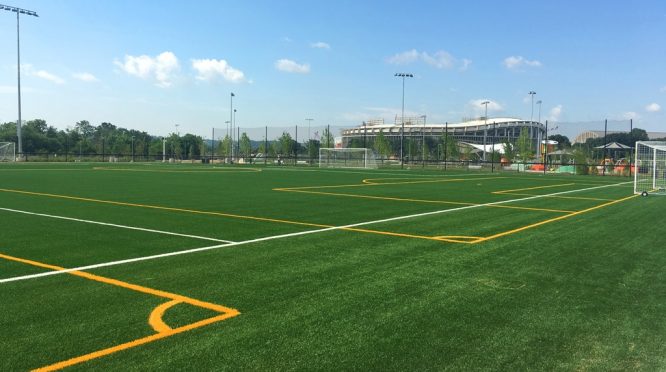 Project Info
Client

Events DC

Location

Washington, DC

Cost

$24 M
RFK Multipurpose Fields
As the first phase of the $500M plan to redevelop the 190 acre RFK Stadium campus, the 27 acre Parking Lot 7 was transformed into a new community activity center. This project included three synthetic turf fields, a 6,000 SF Events Pavilion, two 600 sf maintenance buildings, and a 1,275 sf restroom facility.
GES provided mechanical, electrical, and plumbing engineering as part of a design-build team. The mechanical scope of work was related to the conditioning and ventilation of the new restroom building. Plumbing engineering was provided for the restroom building, as well as the maintenance facilities. Electrically, GES provided the design of the site lighting, athletic fields lighting, pedestrian walkways and parking lot lighting. Lighting and power were also provided for all the buildings. All site lighting poles were provided with receptacles for public use. Cell phone charging pedestals were also provided at different parts of the walkways and seating areas for public use.
GES, along with the team's civil engineer, coordinated with Pepco and DC water for bringing power and water service to the site. Following GES's recommendation, a new elevated Pepco transformer enclosure was located on the west side of the site in order to reduce the potential impact of a flooded Anacostia River on the system.
The project was reviewed for approval by the National Park Service, the U.S. Commission of Fine Arts, the National Capital Planning Commission, and the DC Department of Energy and Environment.
Client Quote: "The RFK Multipurpose Field project was a very challenging project in terms of scheduling, permitting, and construction. GES performed well in these conditions and the project was delivered on-time and on budget related to their work." Hord Coplan Macht.