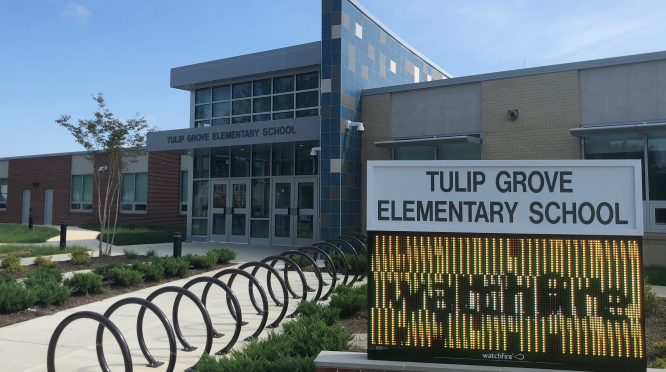 Project Info
Client

Prince George's County Schools (PGCPS)

Location

Bowie, MD

LEED Status

Gold

Cost

$15 M

Size

55,000 sf
Tulip Grove Elementary School Replacement
GES provided MEP & FP services for the modernization and expansion of an existing elementary school to bring it into compliance with the school system's educational specifications.  The existing facility had a facility condition index rating of 76.54%, an indicator that the school is in "Very Poor" condition.
The project includes demolition of 39,782 sf of the existing school, and a 25,389 sf addition to create a new 65,171 sf facility capable of housing expanded programming.  An existing courtyard area was refurbished and serves as the heart of the new educational campus.
In addition to serving the needs of its students, the school is the centerpiece of the neighborhood and available for use by community at night and during the weekend.  To maintain the security of the school and accommodate these diverse groups, the more public facing functions, such as administration, gymnasium, multi-purpose rooms, computer lab and kitchen were located at the front of the school.  The main circulation path connects these active spaces to the quieter classroom areas located toward the back of the school.
For this project, GES' engineers designed a geothermal heat recovery variable refrigerant flow (VRF) water source system.  The system utilizes geothermal heat dissipation via vertically drilled heat dissipating ground wells, indoor variable refrigerant flow fan coil units connected to variable refrigerant flow water source heat recovery units along with indoor/outdoor water source heat pump air handlers for fresh air.  Among the many advantages of the system are its ability to recover heat throughout the building during normal operation, high operational energy efficiency, low noise operational levels, and relatively low operational and maintenance requirements.  Because of the unique nature and usage patterns of the school, one of the major advantages of the VRF geothermal system is its high level of modularity and its ability to zone on a micro and macro level.  As one of the most energy efficient systems available, the system will receive the maximum number of LEED points available for mechanical systems, and the project will achieve LEED Gold.
The new addition required upgrading the existing electrical service, a new main electrical room to house the main switchboard and the electrical distribution equipment, and new panel boards and electrical closets.  Energy efficient fluorescent lamps with electronic ballasts, and ceiling mounted occupancy sensors with override switches will be installed throughout the project. The school has been designed to operate as an emergency shelter for the state of Maryland and includes accommodations for portable generators to power the facility in emergency situations.