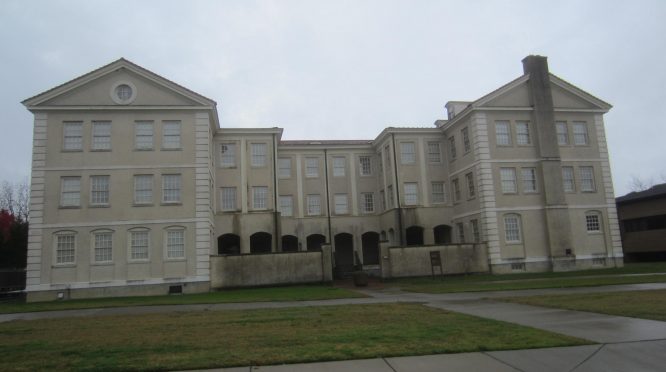 Project Info
Client

USACE Huntsville District

Location

Various Locations

Completion Date

2016
Relocation Study – Ft. Belvoir to Ft. Bragg
The USAMEDCOM is improving the mission's command effectiveness and efficiencies by reorganizing 15 regional functional commands into four multi-disciplinary Regional Health Commands (RHC) (RHC-Pacific; RHC-Central; RHC-Atlantic; and RHC-Europe).
Global Engineering Solutions (GES), under our MFAES MATOC contract with USACE, Huntsville, was tasked to evaluate the architectural and engineering systems' operational conditions of several buildings at Fort Bragg, North Carolina to support the relocation of the RHC – Atlantic  from the National Capital Regional (Fort Belvoir, VA and Fort Meade, MD) to Fayetteville, NC.
The relocation of the RHC – Atlantic involves the entire relocation of the RHC – Atlantic and the Northern Region Contracting Office, Warrior Transition Office, Public Health Command, and the US Army Dental Command. This relocation allows for the Medical, Warrior Care and Transition, Dental, and Public Health to be integrated from the strategic level to the tactical level to improve health readiness across the force.
The GES team performed the following in relation to the RHC – Atlantic relocation:
Generated and provided data for the completion of the Army Regulation 5-10 Stationing Package;
Performed and assessed the course of actions in regards to associated costs, timeframes, and efficiencies of the relocation based on the availability of the buildings of opportunity at Fort Bragg to meet the relocation requirements;
Provided a program of requirements for the relocation of RHC – Atlantic  (P) based on the strength of 400 full-time staff, contractor support numbers, availability, and configuration of space to house a Two-Star Command and directorates, appropriate number of conference rooms, Robust Information Technology (IT) server rooms, and Secret Internal Protocol Router Network Emergency Operation Center; and
Provided a generic program for design, concept for operations, and project room content report.  Recommendations for repair along with a site charrette presentation were also provided.  This information will be used to assist in the development of future statement of work to support Sustainment, Restoration, and Modernization funded renovation projects and buildings of opportunity based on the course of actions.