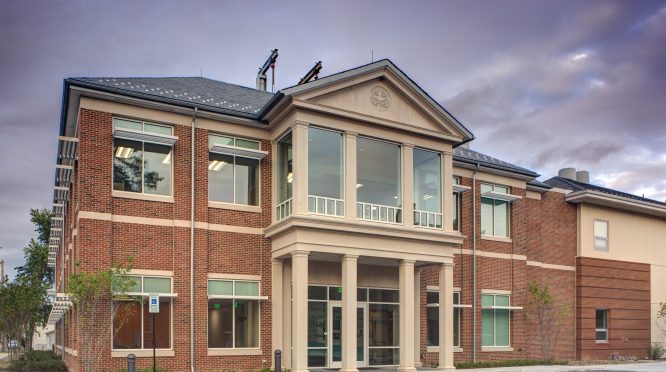 Project Info
Client

University of Maryland Center for Environmental Science, Chesapeake Biological Laboratory

Location

Solomons, MD

LEED Status

Silver

Size

14,828 sf
R.V. Truitt Environmental Sustainability Research Laboratory
GES provided electrical and fire protection engineering for a new 14,828 gsf facility and SCUB. The project replaces laboratories lost in 2008 when the existing R.V, Truitt laboratory was decommissioned, with a new, state-of-the-art facility that restores and enhances the research environment at the center.  New facilities include aquatic seawater laboratories; biological wet laboratories for cellular, microbiological and biochemical ecological research; faculty offices; and personnel support spaces.
The electrical system design included the demolition of three pad mounted transformers, and an existing diesel generator with a 400-gallon above grade fuel tank.  The new service includes a 480Y/277 volt, 2,500  amp, main service switchboard serviced by a 2,000kVA pad mounted transfer. A new electrical panelboard serves the seawater pumps and filtration equipment associated with the aquatic seawater laboratories.  To enhance flexibility within the facility, laboratory spaces were provided with a ceiling mounted busway system to accommodate changing casework layouts and power delivery systems.
All laboratories and associated spaces feature LED lighting, augmented with fluorescent lighting to meet the high illumination levels required at the bench tops.  Dimmable and programmable lighting are provided in the seawater labs to facilitate artificial diurnal lighting control.  To support LEED® objectives, lighting power density has been minimized through the use of day lighting and task lighting.
The fire protection system features an automatic wet-pipe sprinkler system designed in accordance with NFPA 13.  A sprinkler zone was provided for each floor, and each zone is provided with a zone control valve assembly with a control valve with tamper switch, a check valve, flow switch, pressure gauge and test and drain assemble.  Non condition zones, or those areas of the facility that are not above 40 degrees fahrenheit at all times, were provided with a dry pipe sprinkler system.
A new multiplex fire alarm system was provided to monitor both the new facility, as well as the nearby Fisheries Research Center.  Smoke detectors, manual pull stations, supervisory devices, audio/visual devices were provided as required.
Awards:
2017 U.S. Green Building Council's Maryland Community Leader Award for Higher Education
Photo courtesy: RCG Architects.