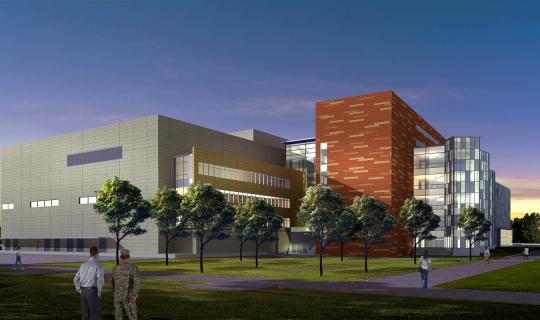 Project Info
Client

US Army Corps of Engineers

Location

Ft. Detrick, MD

Size

1,000,000 sf
New US Army Medical Research Institute of Infectious Diseases (USAMRIID) Bio-Containment and Research Facility
As part of a comprehensive value engineering team Global Engineering Solutions (GES) provided mechanical, electrical, plumbing and fire protection value engineering (VE) and design review services to the US Army Corps of Engineers for the US Army Medical Research Institute of Infectious Diseases (USAMRIID) Replacement Facility.  The VE study provided recommendations to enhance operation, reduce cost, preserve the environment, save energy, maintain safety and simplify maintenance and design.  As a result of the study, more than $62,000,000 in cost savings measures was produced.
The new $750 M facility is the US Biological Defense Research Program's lead medical research laboratory at Fort Detrick, MD.  This integrated research facility houses USAMRIID which is the centerpiece of the National Interagency Biodefense Campus.  As one of the most complex and sensitive facilities in the nation, the new facility is comprised of state-of-the-art spaces including BSL-2, -3 and BSL-4 and ABSL-2, -3 and -4 spaces, administrative offices and operational support facilities.
The Phase I project provided approximately 835,000 gsf of new building space for the replacement of outdated and compressed existing facilities. Phase 2 included a new 400,000 gsf building for the balance of USAMRIID's expanded mission and for additional capacity to meet intensified national requirements for medical T&E in support of biodefense research.