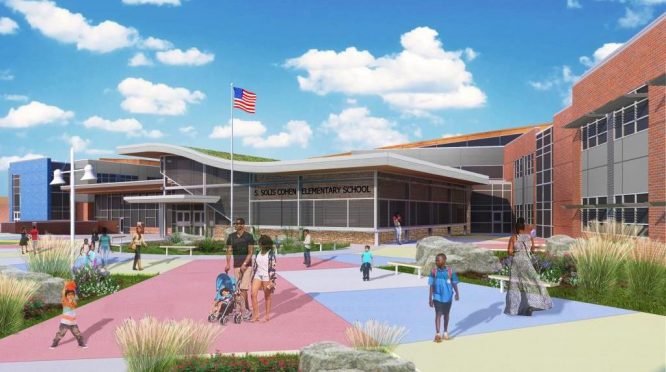 Project Info
Client

School District of Philadelphia

Location

Philadelphia, PA

Size

143,000 sf

Cost

$50 M
New Solis-Cohen Elementary School, School District of Philadelphia
The existing Solis-Cohen Elementary School is unable to meet the demands of the 21st Century Learning Environments, and is need of replacement.  Global Engineering Solutions (GES) is providing mechanical, electrical, plumbing, and fire protection (MEP & FP) engineering services for the design of the new 143,000 sf facility. The guiding principles that are driving the design for this project include LEED/sustainable design, safety and security, project phasing and site considerations.
The HVAC and related mechanical systems will not only be functional and responsive to the need, but will be simple, reliable, durable, maintainable, and easily accessible. During the initial conceptual design phase, several types of HVAC systems were studied in order to determine the most suitable system for the project. The final HVAC selection will utilize energy conservation techniques to the greatest extent possible, while maintaining comfortable control. The new mechanical and plumbing systems will include:
Two air-cooled chillers and three gas-fired condensing boilers
4-pipe hydronic distribution system with "Uponor" hydronic PEX piping system.
Radiant heating panels for classrooms
Seven VAV type rooftop units and a blower coil AHU serving the main electrical room
Full DDC system, open protocol, etc.
Two 100-gallon natural gas tank water heaters with recirculation system
Quick response, fusible link, pendant type sprinklers
Primary electrical service to the school will be provided underground by PECO and service transformers and will be located in school property. Power will be distributed through the facility via 3,000A, 480Y/277V main switchboard. Interior lighting and site lighting will be provided using LED lighting fixtures.
Photo courtesy: Crabtree, Rohrbaugh & Associates Architects