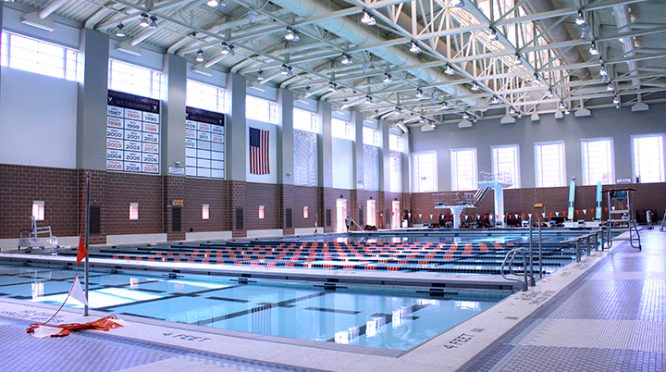 Project Info
Client

University of Virginia

Location

Charlottesville, VA

Size

97,000 sf
Aquatic and Fitness Center Facility Assessment
The University of Virginia (UVA), Aquatic and Fitness Center are utilized by UVA's students and the community for multiple programs and informal recreation throughout the year.  The facility has benefited from good maintenance since its opening and continues to be an asset to the University as well as its competitive swimming and diving programs.
Under our term contract with the UVA, Global Engineering Solutions (GES) was tasked to provide a condition assessment to evaluate and suggest upgrades to the architectural, access/ADA, aquatic components and spaces, and the mechanical, electrical, plumbing, and fire protection systems for the 97,000 sf facility The three-story recreation center and natatorium contains three pools, including a 50-meter competition pool, a warm water pool, and a spa, as well as a control room for swim meets. Also included are a multi-purpose room, snack bar, campus shop, gymnasium, fitness areas, locker rooms, and ancillary spaces. GES performed an assessment of the pools and equipment; provided a thorough study of the original documents, as-built, and shop drawings; interviewed maintenance personnel and key personnel directly involved with facility operations; provided recommendations for improvements; and provided a matrix of priority level tasks and with associated budget costs for the improvements.
About Us:
Global Engineering Solutions offers comprehensive solutions for the design and construction of energy efficient and sustainable facilities. With a focus on MEP & FP systems, We have the Engineering knowledge, resources and experience to meet all of our clients needs. Contact us for consultation on your Next Project.