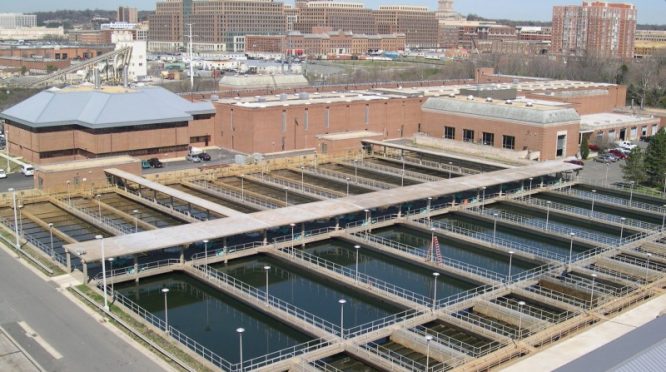 Project Info
Client

AlexRenew

Location

Alexandria, VA

Cost

Various
BOA Alexandria Renew
Global Engineering Solutions (GES) was awarded a basic order agreement (BOA) with Alexandria Renew Enterprises (AlexRenew) to provide professional engineering and technical support for AlexRenew's HVAC, plumbing, mechanical, and electrical systems.
Under this agreement with AlexRenew, GES develops engineering documents and specifications for HVAC system, plumbing, and plant effluent (W3) system improvements; conducts condition assessment of electrical equipment (adjustable frequency drives, motor control centers, etc.) and identify necessary improvements and design improvements to bolster electrical reliability; and assist AlexRenew with its efforts to develop and implement a comprehensive assets management program to maintain its equipment in a state of good repair.Sample tasks include:
Electrical Service Reliability Assessment
GES was tasked to provide an electrical reliability assessment of AlexRenew's on-site electrical infrastructure to improve reliability and assist AlexRenew with prioritizing future improvement projects at the water treatment plant. The project consists of providing condition and reliability assessments of the entire plant's electrical power distribution system including dual 34.5kV incoming power from Dominion Power Company, (4) 5MVA, 34.5kV-4160/2400V, pad mounted transformers, (2) main-tie-main 5kV switchgears, and numerous main-tie-main motor control centers and switchboards fed via 4160V-480/277V step-down transformers. The assessments also include the electrical equipment and feeders, switchgears and associated aerial and underground feeders serving the West Plant and associated 1,000 kW emergency generator. GES also provided review and evaluations of the plant's current Preventive Maintenance Program practices.
General recommendations for other items such as age of equipment, low potential risk items, existing equipment scarcely used, etc., that were not directly link to reliability were also provided. Cost estimates were provided for each deficient item.
Air Handling Unit Replacements
In Building N, mezzanine area, two AHUs that are currently installed to serve the electrical and control rooms are both inoperable. Due to the fact that the units are stacked against each other, there is no practical way in performing maintenance or removal of the unit below without compromising the unit above. Known issues at this point are that the units have blasted coils beyond repair.
To resolve the issue, a DX system was installed for the electrical room comprised by ceiling mount ductless cassettes and outdoor air cooled condensers. This remedy solved the immediate need of the cooling the electrical room, but the control room remains unconditioned. GES recommended demolition/removal of both units and replace with a single unit with both cooling and heating capability to provide dedicated outside air to the rooms for ventilation purposes. The control room is provided with a similar ductless DX system as the one for the electrical room. A suitable exhaust system was provided to remove ventilation air quantities services.
Coarse Hoist Improvements
The project consists of providing a removable platform at the Basement Level in the coarse screen and the addition of moveable non-motorized hoists and monorail above the screen to aid in the removal, which provides additional support for repairs of the coarse screen rakes and equipment.